Eastlit 2015 Popular Asian Literature.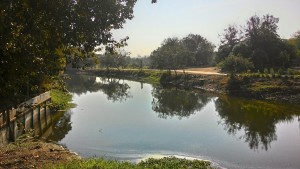 Happy New Year to all our readers and contributors. Following tradition, here is the 2015 top thirty. This is the third look at what is popular for a year. The start of Southlit Supplement has added a new region. So I have increased the usual top 20 to a top 30 this year.
This year we see a mix of poetry, fiction, non-fiction, artwork and an interview in the 2015 popular Asian literature list.
If you want to see the previous years entries follow the links: 2014 Top Literature and 2013 Top Twenty. But with no more ado, here are this years.
2015 Popular Asian Literature:
A Veil of Silk by Jared Angel.
Ishinomaki by Cesar Polvorosa Jr.
Eastern Poetry by Graham Lawrence.
Translucence & The Exile by James Underwood
Going Back to Emerald Hill by Chew Yi Wei.
The Writing is on the White Board by Connla Stokes
Boxing Day '13 by Hồn Du Mục
The Puppet Tree Illustration by Vasan Sitthiket.
Why I Write by Qui-Phiet Tran.
A Descendant of Emperor Shang Tang by Minglu Zeng
At the Frozen Lakeshore and China by Minglu Zeng
Smoke and Mirrors by Sayantan Ghosh.
Poem by Preeyakit Buranasin.
Ashwin Mudigonda Interview by Graham Lawrence
The Puppet Tree by Andrew J. West.
21 Rupees and 25 Paisa by Vidya Panicker
The Man Root by L.P. Lee
Love Story for a Foreign Girl by Fiona Cheong
Still Life and Two Other Poems by Anna Yin
Return to Gander by Xiaowen Zeng
Ma's Mosquito Moment by Hong-My Basrai
Fifth Daughter of Tung by Paula Tan
Bluebird Island by Pauline Lacanilao
Junko & Other Poems by Yumiko Tsumura
Morning Music by Jonathan Ng
Hibakusha by L.P. Lee
Violin Girl by T-net Quiring
High Water & Other Poems by Reid Mitchell
Family Drama by Juanita Kakoty
Reliving World War II in the Philippines by Carol Colborn
Top 20 Countries where Eastlit was Read in 2015 (in alphabetical order)
Australia
Bangladesh
Canada
China and Hong Kong
India
Indonesia
Japan
Malaysia
Myanmar
Nepal
Pakistan
Philippines
Russia
Singapore
South Korea
Taiwan
Thailand
UK
USA
Vietnam
Statistics
Year on Year Readership Change 2014 to 2015
+32% January 2015 on January 2014.
+11% February 2015 on February 2014.
+9% March 2015 on March 2014.
+10% April 2015 on April 2014.
+8% May 2015 on May 2104.
0% June 2015 on June 2014.
+1% July 2015 on July 2014.
+21% August 2015 on August 2014.
+1% September 2015 on September 2014. (No issue)
+26% October 2015 on October 2014.
+2% November 2015 on November 2014. (No issue)
+14% December 2015 on December 2014
Year by Year Readership Change
+770% from year 2012 to 2013 (only 1 issue in 2012)
+52% from year 2013 to 2014
+10% from year 2014 to 2015 (only 10 issues is 2015)
Other News
Thank you for your brilliant support over 2015. The whole team at Eastlit hopes you will continue to enjoy the journal in 2016. I will again introduce one or two new things in 2016. We like to develop as the years go by. But the main aim is to keep Eastlit vibrant and relevant to you as readers and writers.
If anyone has any comments or suggestions on anything to do with Eastlit please get in touch with the editor. All feedback is listened to, considered and appreciated! We are also looking for guest editorials and a possible volunteer for the editorial board. If anyone wants to be interviewed for Eastlit, let me know. Oh and if you like us, linking to our site is always appreciated!
Have a great 2016.
Cheers.