Three Worlds
by Andrew J West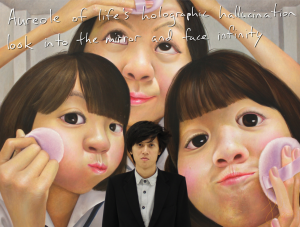 Andrew J West has of course featured fairly regularly in Eastlit as a writer. At Eastlit we do like to support the work of our contributors. So on hearing of his first solo art show in Bangkok, I decided to go and take a look. Having never met Andrew befoere, I found it nice of Andrew to agree to meet me there and guide me round the exhibits. Three Worlds a photo-poetry-art exhibition is showing at BACC, Pathumwan, Bangkok until February 16. It is a recommended visit, and I am sure with ongoing protests in Bangkok Andrew would appreciate anyone who can support him. I have also since heard that the show may be repeated at a later date in another location in Bangkok. We may also feature some of the show as an online exhibition in Eastlit as a later date. More on this later. I have taken the liberty of featuring a piece that interested me personalIy. I have also posted the press release for the event below:
Three Worlds
Opened by OCAC Director-General Mr. Khemchat Thepchai
with Special Guest Mr. Boonchai Bencharongkul
Bangkok, 18 January 2014 – Three Worlds is an art exhibition featuring 27 of Thailand's leading and upcoming artists with the aim of promoting Thai art to the world. The artworks consist of photographs of each artist posing with their artworks, about which an individual poem has been written. This is Andrew J West's first-ever solo show, and is supported by the Office of Contemporary Art and Culture (OCAC) and the Museum of Contemporary Art MOCA.
OCAC Director-General, Mr. Khemchat Thepchai, said, "Andrew has been active in the art scene through his articles, books, and fiction over the past decade. He has taken the subject matter that he had critiqued and chronicled—Thai arts—and applied what he likes to call 'photo-poetry' to it. This highly original concept, when applied to this subject, I believe promotes arts in a way like no other. This show will serve to lift the profile of Thai arts both locally and internationally, which is why we are delighted to support Andrew, even though he is a foreigner, by funding the exhibition."
Mr. Boonchai Bencharongkul the founder of MOCA said, "MOCA's goal is to support and promote Thai art, an objective we share with noted arts writer, Andrew J West, whose intention has been to support Thai art through his words. This unique interdisciplinary linking of art and poetry is a singularly effective means of drawing attention to Thai art and it is my greatest pleasure to sponsor this exhibition in cooperation with the Office of Contemporary Art and Culture and Bangkok Art and Culture Centre."
Andrew J West said, "Firstly, I have to thank the artists for participating in this show, as well as Khun Khemchat, Khun Boonchai and the director of the BACC, Khun Luckana Kunavichayanont, for their great support. Also, Bancha Nangsue for his curation of the show and his invaluable help and advice with preparing for the event."
"A niche exists in the ever-present tension between art and literature, and, as a long-time art critic and art fiction writer residing in Thailand, I feel sensitive toward it in this time and place. These 'photo-poems' are short verses presented with photographic portraits of 27 Thai artists taken with a piece of their art, with the intention of uniting the two art forms of visual art and writing," said Andrew.
Andrew concluded, "This is a unique interdisciplinary concept, with no other artist or photographer doing similar work in Thailand or elsewhere. Thus, the show's artworks elevate Thai art in a unique way. All poems are written in English, but are translated into Thai."
Exhibition dates: January 14 to February 16 at BACC.
And thanks and good luck to Andrew from me. I hope the show goes well.
Cheers.