The list of Eastlit writers June 2014 is alphabetical by first name.
Andrew J. West
Andrew J. West is a Bangkok-based writer who has written extensively about Thai art and is also a writer of fiction. He is author of the forthcoming Thai Directory of Contemporary Artists (expected in 2014) and Destiny to Imagination: Prateep Kochabua (2013) and Thai Neotraditional Art (expected in 2014). His art fiction novel Silpa: the Art of Love (Ruk Nai Roy Silp) was published in the Thai language in 2008, and several short stories have appeared in Eastlit. His first solo art exhibition, Three Worlds, of "photo-poetry" was shown at the prestigious Bangkok Art and Culture Centre (BACC) in 2014. West was born in 1967 in Armidale, NSW, Australia, and studied writing and journalism at the University of Western Sydney (UWS), graduating with an MA (Writing). West has been living in Thailand since 2003, teaches at the National Institute of Development Administration (NIDA) and has guest lectured in art criticism at Silpakorn University.
Adonis Enricuso
Adonis Enricuso is a university instructor in the Philippines. If not reading, he writes poetry and fiction both in English and his mother tongue Cebuano.
Cesar Polvorosa Jr.
Cesar Polvorosa, Jr. is a professor of economics and world geography at the Humber Business School, Toronto, Ontario, Canada. He is a published writer in economics, business and literary fields. His poems and/or short stories had been published in Page & Spine of North Carolina, Eastlit literary journal of East/Southeast Asia, major Philippine national magazines, a Japanese English newspaper and a York University literary journal (Canada). His fiction had been anthologized. He was a Writing Fellow at the University of the Philippines National Writers' Workshop. In Toronto, he was a 2008 Emerging Writer of Diaspora Dialogues and a Board Director of Story Telling Toronto (2009-11). He had been a scholar in his BA, MA and PhD studies.
David E Owen
David E. Owen is a retired international banker whose career took him on frequent trips to South, and Southeast Asia. He was stationed in Nigeria, where he met his Canadian wife, Ona, and inSingapore, where he met Eastlit contributor Stephen Jordan. David lives in Louisville KY where he spends his time writing short fiction, volunteering, and attending the performing arts.
Henrik Hoeg
Henrik Hoeg lives and works and writes poetry in Hong Kong, mainly performing his poetry at a weekly poetry group called Peel Street Poets. He has never really been published, nor tried to be until now.
Iain Maloney
Iain Maloney was born in Aberdeen, Scotland and lives in Japan. He graduated from the acclaimed Glasgow University Creative Writing Masters in 2004 and his debut novel, First Time Solo, is out now on Freight Books. www.iainmaloney.wordpress.com.
Jamie Wang
Born in Shanghai, Jamie Wang is an Australian writer currently living in Hong Kong. She holds a master's degree in business and worked in the field of business analysis before embarking on a writing journey to fulfil her long time passion for literature.  As well as writing literary fiction, Jamie creates local art gallery press releases and does volunteering work. Jamie is currently working on fiction and nonfiction stories as well as poetry.
Jared Angel
Jared Angel is the author of the novels, Betraying the God of Light and the forthcoming Humans Rising and The First Ending. He has been teaching EFL and culture in Japan for 14 years and is currently working part-time at four universities in Kobe.
Lawrence F Farrar
As a career diplomat, Lawrence F. Farrar served in Japan (multiple tours), Norway, Germany, and Washington, DC.  He earlier lived in Japan as a graduate student and as a naval officer.  A Minnesota resident, Farrar has degrees from Dartmouth and Stanford.  He also completed studies at the Inter-university Center in Tokyo and at the National War College in Washington, DC. His stories have appeared in Curbside Splendor E-Zine, Tampa Review Online, Green Hills Literary Lantern, The MacGuffin, Red Cedar Review, Red Wheelbarrow, Evening Street Review, G.W. Review, Straylight, Colere, Worcester Review, 34th Parallel, Blue Lake Review, Cigale, Bloodroot, New Plains Review, Paradise Review, The Write Room, Bryant Literary Review, Jelly Bucket, Cheat River Review, and Streetlight. He also assisted with preparation of a Hiroshima memoir published in New Madrid. Farrar has completed two draft novels, both set in Japan.  His stories often deal with people coming up against the norms of a foreign society.
Mai Văn Phấn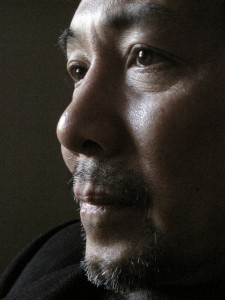 Born in 1955 in Kim Son, Ninh Binh province, Mai Van Phan now lives and writes in Hai Phong City. He has won several literary awards in Vietnam and published 14 books of poetry: Giot nang (Drops of Sunlight, 1992); Goi xanh (Calling to the Blue, 1995); Cau nguyen ban mai (Prayers to Dawn, 1997); Nghi le nhan ten (Ritual of Naming, 1999); Nguoi cung thoi (People of the Era, 1999); Vach nuoc (Water Wall, 2003); Hom sau (The Day After, 2009); va dot nhien gio thoi (and Suddenly the Wind Blows, 2009); Bau troi khong mai che (Vietnamese-only version of Firmament Without Roof Cover, 2010); Tho tuyen Mai Van Phan (Mai Van Phan: Selected Poems) (poetry, essays and the interviews, 2011); hoa giau mat (hidden-face Flower, 2012); Bau troi khong mai che/ Firmament Without Roof Cover (bilingual 2nd edition, 2012), and Vua sinh ra o do (Just Born There, 2013), Nhung hat giong cua dem va ngay/ Seeds of Night and Day (2013), Buông tay cho trời rạng/ Out of the Dark (2013), Vowels in the dew/ Những nguyên âm trong sương sớm (in the Albanian, 2014).
Murzban F Shroff
Murzban F. Shroff is a fiction writer from Mumbai who publishes extensively in the U.S. To date, he has published his fiction with over forty-five premier journals in the U.S. and UK. Six of the stories have won a Pushcart Prize nomination; one has been the recipient of the John Gilgun Fiction Award for the Best Submission of the Year. His debut fiction collection, BREATHLESS IN BOMBAY, published by St. Martin's Press and Picador India, was shortlisted for the 2009 Commonwealth Writers' Prize in the best debut category from Europe and South Asia. The work received a high degree of critical acclaim from forums like Publishers Weekly, Kirkus Review, Booklist, The Huffington Post, and the BBC Asian Network. It featured fourth in the Guardian listing of Top Ten Mumbai books. Shroff has completed a post-modernist novel and a second collection.
Nichole Reber
After four years of living in China, Hong Kong, India, and Peru, Nichole L. Reber repatriated to the States in February. She's often found discussing urban planning with architects, traveling through the Phoenix Valley via alternative transport, or sitting at the bar with a book and a coctalito. Nichole earned a master of arts in literary writing with honors from DePaul University. Her essay on the implications of gender rights by wearing chador in Mumbai and another on her indoctrination to the jazz world have been published in Recess Magazine and AllAboutJazz.
Nguyễn Quang Thiều
Nguyễn Quang Thiều (1957) is a poet, working as editor, fiction writer, playwright, translator, children's author and photographe, living in Vietnam.
Vice chairman of the Vietnamese Writers Association, 1 st Vice Secretary General of the Association of Afro-Asiatic Writers. Born in Hà Tây Province, Nguyễn Quang Thiều entered Ha Noi University in 1975 and began to write poetry in 1982. He studied Spanish and English in Cuba from 1984 to 1989. He currently lives in Hà Đông.
Rembrandt Ramilo
Rembrandt Ramilo was an Editor- in- Chief during college. He studied graduate courses in Public Affairs,and had a teaching job in College before, but now is a private English tutor and businessman.
Simon Anton Diego Nino Baena
Simon Anton Diego Nino Baena is a political science student at Silliman University. He currently manages his own farm. His poems have been published in Philippines Free press, Philippines Graphic, Kartika review, Dagmay, Kabisdak online, and the independent Mindanao art journal.
Stefanie Field
Stefanie Field is a graduate student pursuing a Master's Degree in International Relations in Bangkok, Thailand.  She also works as an intern at Human Development Forum Foundation.  She hopes to become fluent in Thai and Japanese to translate Asian literature in the future.
Steve Rosse
In 1988 Steve Rosse took a break from a career in the New York City film and television industry for a three-month holiday on Phuket, an island off the Western coast of Thailand in the Andaman Sea.
He decided he liked Phuket more than he liked New York, and without any idea of what he'd do for a living, he took up residence on the island. He supported himself, and eventually his wife and children, for most of the next decade as a freelance journalist and columnist.
His column, "The Rock", appeared in The Nation, Thailand's Independent Newspaper, every Sunday for five years.
In 1997 he moved to Iowa for the surfing.
Suvi Mahonen
Suvi Mahonen is a former journalist now turned freelance writer. Her non-fiction has appeared in various newspapers and magazines in both Australia and Canada including The Weekend Australian, The Sydney Morning Herald and Practical Parenting. Her fiction has been widely published in literary journals and anthologies including in The Best Australian Stories 2010 and Griffith Review. A portion of a longer work-in-progress was nominated for a 2012 Pushcart Prize.
Tom Sheehan
Tom Sheehan served in 31st Infantry Regiment, Korea, 1951-52, and graduated Boston College, 1956. Poetry books include This Rare Earth & Other Flights; Ah, Devon Unbowed and The Saugus Book. He has 24 Pushcart nominations, 362 stories on Rope and Wire Magazine, work in Rosebud Magazine (5), The Linnet's Wings (6), Ocean Magazine (8), Eastlit (4) and many internet sites/print issues/anthologies including Nervous Breakdown, Eskimo Pie, Faith-Hope-Fiction, Subtle Tea, Danse Macabre, Deep South Magazine, Best of Sand Hill Review, Qartsiluni, Best of Frontier Tales, Wilderness House Literary Review, 3 AM Magazine, MGVersion2Datura, Dew on the Kudzu, Literary Orphans, and Nazar Look, etc. His work has been published in Romania, France, Ireland, England, Scotland, Italy, Thailand, China, Mexico, Canada, etc. His latest eBooks are an NHL mystery, Murder at the Forum, January 2013 and Death of a Lottery Foe, 2013,Death by Punishment and An Accountable Death, by Danse Macabre-Lazarus-Anvil Fiction in Las Vegas, Other eBooks at Amazon or B&N or Smashwords include the collections Epic Cures (with an Indie Award); Brief Cases, Short Spans, Press 53; A Collection of Friends andFrom the Quickening, Pocol Press. His newest eBooks from Milspeak Publishers are Korean Echoes, nominated for a Distinguished Military Award, and The Westering, 2012, nominated for a National Book Award by the publisher. Pocol Press is proceeding with a new collection, In the Garden of Long Shadows, with 7 western collections completed and in the publisher's queue. Literary Orphans will publish his 3600 word prose poem in their coming Irish issue. Now in his 87th year, Sheehan writes 1000 words a day.
Boston Globe's Alan Lupo (RIP) once said, "Sheehan is Dos Passos reincarnated and drives a story into our souls as if it were an old Buick Roadmaster."
Vasan Sitthiket
Vasan Sitthiket has built his artistic career on confronting the establishment and addressing taboo social and political issues—both national and international. Vasan, who has become known as the country's enfant terrible, was presented the Silpathorn Award (Thailand's highest art award) in 2007 from Ministry of Culture's Office of Contemporary Art and Culture. He is one of Thailand's best-known artists at home and abroad.
William Marr
Born in Taiwan and spent his childhood in mainland China, Chinese-American poet William Marr (Fei Ma)  has published 21 books of poetry ( 2 in English, the rest in his native Chinese language) and is considered one of the world's leading contemporary poets writing in Chinese.  Hailed as one of the collectable Chicago poets, his English poetry is also highly regarded.  His poems appear in over one hundred anthologies, ranging from literary textbooks to special collections and have been translated into more than ten languages.  In addition to writing poetry, he has also engaged in translating Western modern poetry into Chinese and has edited several anthologies of Chinese and Taiwanese modern poetry.   A research scientist at Argonne National Laboratory near Chicago and a former president of the Illinois State Poetry Society, he has also pursued other artistic interests including painting and sculpting in recent years.  His most recent poetry/painting exhibition was held last month at a gallery in Beijing, China.