an Eastlit Interview by Graham Lawrence
Zara Adcock is a Children's/YA fantasy writer, poet, book reviewer, and proud founder of Bookommended, the one of a kind book recommendation, sourcing, and delivery service. She is the fiction writer for Approach magazine, a former reviewer for The Review Review, and her poems have been featured in Eastlit. To find out more about Zara and her work, visit www.zara-adcock.com.
When did you first start writing?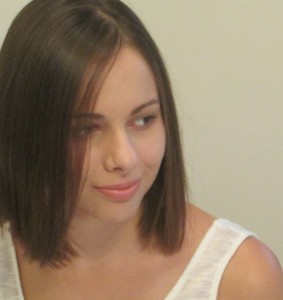 I think I was about 9 years old. I had recently finished reading Clarice Bean, Spells Trouble by Lauren Child, and had fallen in love with the way Child made the completely ordinary absolutely extraordinary. I knew there and then that I wanted to be able to create that same sense of wonder – that same kind of magic. Later I discovered fantasy and adventure, and – in awe of how 'magic' and the unreal could be brought to life with words – found my voice in this genre.
Please tell us a little about your writing.
I write fantasy, mostly aimed at readers between the ages of 8 and 16, and love creating otherworldly adventures laced with mystery. My poetry is deeply rooted in personal experiences, ideas, and truths, and I work loosely with haiku and tanka, occasionally incorporating surrealism.
Could you briefly summarize your literary activities and achievements?
My first published work was the beginning of The Sword of Stars, a children's fantasy novel originally printed in serialised form in an English-language Thailand based magazine. I am currently working on bringing this story to book form, and am enjoying writing and publishing my serialised novelette The Giant Bookworm in the same publication.
My poetry first appeared in Eastlit, a place where I enjoy reading the work of emerging writers as much I enjoy sharing it. In recent months, my poetic voice and style has developed and strengthened.
Last October, I launched Bookommended (www.bookommended.com) – the one of a kind book recommendation, sourcing and delivery service that bridges the gap between writers and readers, by recommending the right books for customers based on their individual needs, we also help authors to reach their ideal audiences. As someone who loves reading, Bookommended allows me to share this love with others.
I am also a book reviewer, and former contributor to The Review Review.
Which piece of your own writing means the most to you and why?
I honestly cannot choose one single piece. My novel means a lot to me because it's the first one I've written that has worked. I love my current serial The Giant Bookworm because not only do I get to write about a book-collecting giant, but I am able to express my passion for books and the power of literature in a way that entertains children. And of course, each poem I have written has personal meaning to me.
Because I sift through inspiration by determining if the story/poem/etc. is unshakeably important to me (if it is, then I know I will have the patience and commitment to see it through.), everything I write is important to me in some way. 
Are there any Asian poets, writers, artists among your major influences?
Yes! I am deeply inspired by Asian writers centuries old such as Li Po, Ikkyu, Ekon, Basho, Buson, and many more. I admire the work of many writers I have found through Eastlit, including Rose Lu, Anna Yin, Preeyakit Buransin, and Xenia Taiga. And I enjoy some of the works by Thannha Lai, and Joyce Chng.
If you hadn't been a writer what would you have been?
Composer/songwriter.  
What does being a writer mean to you?
To me, being a writer means I get to choose my own hours, work wherever I like, and create my own magic and sense of wonder and joy for others. Most importantly, it means I do what I love, which makes me happy.
How did you find Eastlit and what are your impressions of it?
I was overjoyed to find Eastlit whilst searching online for Asia-based literary magazines. To this day, Eastlit is one of the only journals I can honestly say that as a reader no issue has ever disappointed. I hope to see Eastlit continue for years to come, and believe it is just as necessary in the East and Southeast Asian literary scene, as it is appreciated.
*****
Thanks to Zara Adcock for taking the time to give us an interview. All of us at Eastlit wish her the best in the future. I would also like to thank her for the period she spent on our editorial board in the past.
The following work by Zara Adcock has featured in Eastlit: