an Eastlit Interview by Graham Lawrence
What do you do outside of writing?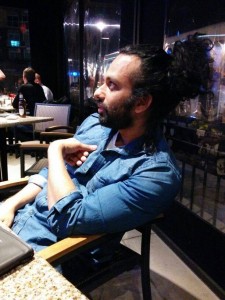 I am a roboticist at a startup in Nashville, Tennessee. I design algorithms and write software code to enable robots to identify objects in cluttered industrial environments and manipulate them.
How do you find time to do your writing?
It's quite difficult, actually. I used to write over the weekends many years ago. But by the time I came up to speed with what I wrote, and then started to write afresh, my time would be up. I later realized that constant writing, however little, was better than writing in bursts. So now I try to write every night. On the days I don't train in capoeira, I find that I have more energy and time to write. On other days, I read what I have written and make notes for my next session.
How long does it take you to complete a piece of work?
It depends on what I am writing. Currently, I am working on my fourth book, and it's been on the drawing board for about two years now. Every now and then I will be inspired to write a quick short story. These, I barrel through and normally finish in a few days. I let these rest and age (hey! I live in Tennessee, home of good whiskeys!) and when I am not really in the mood to work on my book, I try to polish them. I do take writing on social media seriously too, for this is more regular and receives instant feedback. I compose status updates that are essentially short essays, and use the feedback from my friends to calibrate my writing.
When did you first start writing?
I remember writing my very first story at the age of 3. I wanted to write a fairy tale, and started with ²Once up…" and not knowing if 'upon' was a word or not, I quit! I wrote my first short story when I was 16. My little brother read it, found it not to his taste, and deleted that story! I rewrote it a week later, and was eager to show it off to everyone. I still read it, and cringe at how jejune I was in my thought process.
Could you briefly summerize your literary activities and achievements?
Honestly, not much! A story titled Condom In Intestine Syndrome won a national level short story competition in 2001. Eastlit published one of my more recent short stories – Monkey Business. My first book, Kamappan's Revenge was well received by Random House publications, but after a request for full manuscript there was only the deathly silence of rejection! This, however, I self pulbished on Amazon. I am currently working on my fourth book. The second and third, I have decided to rework at a later date before trying to publish them.
Please tell us a little about your writing.
I get influenced by styles quite easily. However, over the years, I have evolved my own writing style. I grew up with a heavy dose of Stephen King and all the horror authors out there. I loved the preternatural world of ghosts and spirits, and naturally also took to magical realism. When I read Sir Salman Rushdie's Midnight's Children, I had an epiphany – I could write with Indian vernacular and not be embarassed about it or wonder if the western world would understand the nitty gritties of Indianisms (I am an Indian, btw). This marked a critical phase in my writing when I began to include local vernacular in dialogs. I grew up in Tamil Nadu, and my characters began to speak English laced with Tamil the way I did. Their names were local and so were the settings for the stories. The more I traveled within India, the more I was confident in staging stories in various parts of the country, but I am always drawn to Madras, the coastal city where I grew up.
Which piece of your own writing means the most to you and why?
²Once upon" because that fire has not extinguished, only shaped into a laser cutting torch now.
What does being a writer mean to you?
In this day and age, when attention spans are dwindling away, being a writer means assuming the solemn role of a guardian to a portal, and a tour guide of another universe. It's a role with many challenges, something akin to juggling cupcakes on a unicycle while listening to Pavarotti. One small mistake, and you have lost your audience! So I take writing quite seriously. No other art form moves one as much as a good writing. I have the omnipotence of spawning worlds and people, manipulating them, and then finally dissolving them. In a way, I assume the roles of Brahma, Vishnu, and Shiva, the trinity of the Indian pantheon, and I hope that people will visit the altar of my book. Thus, my writing must deliver. But a writer does not necessarily always show his abilities through written words. I like to think that I am a raconteur, and tend to narrate even the smallest of incidents as if it were a short story, and like all my short stories, I end them with a punch.
What is literature?
That's a nebulous word. It tends to be associated with ²good" writing, but what is good writing? There are countless pieces of 'literature' (50 shades of gray, for example) whose authors would have been excoriated only a century ago for their works. Not that 50 Shades of Gray can be considered literature by any metric, but there are people for whom it's good enogh. The same can be said about a certain contemporary Indian author, Chetan Bhagat, and his works. It's quite reductive and naive, overdosed with masala plots, and peppered with typos and grammtical mistakes. Yet, people lap up his books, and Bollywood goes into conniptions trying to turn his diarrheic sentences into soppy movies, and for many, this is perfect airplane or daily commute reading fodder. And that is the true definition of literature: good enough reading for the individual. But times change, and the meanings of ideas morph too. Like a bottle of good wine, some writing takes time to mature before it is considered high art.
How would you describe your writing process?
Ritualistic. I am a scientist by day, and so I tend to peruse papers that study factors that aid the writing process. I read, and personally experienced, that a coffeeshop is the best setting for writing as the ambient noise is just loud enough to stimulate the brain's creative flow. I also read that writing a bit buzzed helps in out-of-the-box thinking. Hemmingway was surely right when he said, 'Write drunk; edit sober.' During the weekdays, my ritual involves the following: after dinner, I power up my decade-old laptop that is equipped to do two things: write a word document; search dictionary.com or thesarus.com for words. As it boots (it takes a while), I light incense. I first read what I have written earlier, and make any notes by highlighting passages in yellow and writing my notes in bold. If I don't have much time to write new material, I'll address one of my notes. If I can write, I'll work on it for an hour or so. On the weekends, I head to one of my favorite coffeeshops, down a couple of beers, before editing and writing. Typically, once I enter the 'zone', I switch to coffee, and almost always end up overcaffeinating myself! But some of my most tangential writing has emerged from these alcohol and caffeine fueled sessions!
Are there any Asian poets, writers, artists among your major influences?
Yes, there are. I grew up reading R. K. Narayan, a simple yet brilliant author whose short stories and novels have all the lucidity and simplicity that a child or a teenager needs to cross the threshold of Indian writing. His Swami and Friends was truly memorable. I was later influenced by Sir Salman Rushdie with his prestidigitation with the English language and his ability to meld English and Hindi with aplomb. It is after reading Midnight's Children and The Moor's Last Sigh that I lost my inhibitions in expressing my character's thoughts through the vernacular. To a certain degree I also was influenced by V. S. Naipaul (though Indian by descent, he was born in Trinidad). His A House for Mr. Biswas inspired me to try to write a book following a character from his birth, through childhood and adulthood, and his eventual demise. Arundhiti Roy's The God of Small Things was another great book that showed me how one could be refreshing with one's style especially when the story is set in the hot and tempestous southern part of India. Finally, I enjoy reading Rohinton Mistry's family dramas. They flow gently, and the characters are solid and tangible, something I aspire to do regularly.
What are the Asia-related subjects that have recently engaged your attention?
The massive cosmetic changes that have swept across my homeland, India. I grew up in Madras, a coastal city on the east coast of the peninsula. I was minutes away from a pleasant little beach where, in the evenings (Indians don't need the sun, and thus frequent the beach only around dusk) one would see people walking their jogs, or elderly folks marching up and down the shore, swinging their arms, and stopping every few steps to remove sand from their shoes. Kids played frisbee or soccer on the sand, and couples canoodled in the farthest corners of the beach to the ogling eyes of fishermen. This idyllic little beach is now dwarfed by construction, destroyed by littering, and overridden with haphazardly parked vehicles. Two wheelers congregate on the sands in the hundreds like mating penguins. The roads leading to and from the beach are eternally clogged with traffic and loud honking vehicles. A layer of haze perenially hovers over the city. When I last visited the beach in the early 2000s, I was saddened by this rapid and ugly pace of development. I decided never to go back so that the fond memories of my childhood stayed intact, and ever since then have written about the slow demise of the charm of my country's cities.
Which five books are most influential to you?
Swami and Friends, Midnight's Children, A House for Mr. Biswas, The God of Small Things, Family Matters.
If you hadn't been a writer what would you have been?
I am already not a full-time writer! I am chasing the opposite dream: to become a full-time author. In an another life, I would have loved to be a travel writer. I also happen to be an amateur photographer, and nothing gives me greater joy than traveling to a new place, making pictures, and spending some time writing about my travels.
How did you find Eastlit and what are your impressions of it?
I am not sure exactly how I found Eastlit. I might have found it through Duotrope or by recommendation from a friend.
Would you like to leave us with a favorite quote or two, or a passage from your own or others work? And why does it means something to you?
Oh Madras, the city of my birth, how you uniquely position yourself as a metropolis and a
flashing beacon of orthodoxy. While the world around you eggs on in its blind grope for flashy
things, you, Madras, in 1993, still retain your charm and individuality. It will be years before you,
too, will meet your match from the West; when you, too, will gas the streets with poisonous cars
and motorcycles belching smoke; when you, too, will denude the idyllic Besant Nagar coastline by
allowing, unchecked, the opening of clothing shops, coffee shops, DVD stores, malls,
restaurants, fast food stalls…the whole gamut of foreign bacteria that have begun infecting the
other metros that no antibiotics could cure; when you, too, will brag about your average citizen's
commute from Adayar to Teynampet to be two to three hours, not the thirty minutes it takes today;
when you, too, will go full out and allow the opening of bars and pubs, discotheques and beach
houses for your young adults to paw and grope at each other while their heads swim with a
peacocktail of stimulants. But why lament about the future when it hasn't beaked out of its shell
yet? After all, it is only Madras, and not yet Chennai (that aberration of a name that can only be
relegated to describing the annoying eye disorder…Conjunctivitis..Madras Eye…Chenn-eye!). For
now, it is 1993 and the situation is not yet alarming and I am on my way to my best friend's house.
This passage is part of the opening chapter of my first book, Kamappan's Revenge (a play on comeuppance). It's special because, well, it opens my first book. It also underscores the repeating motif in many of my works which is that my city, Madras, has transformed beyond my recognition. One can read a little more about this in my short story, Monkey Business, which was published in Easlit's first issue.
Thanks to Ashwin Mudigonda for taking the time to give us an interview. All of us at Eastlit wish him the best in the future.
The following work by Ashwin Mudigonda has featured in Eastlit: