an Eastlit interview by Graham Lawrence
Dan Asenlund Intro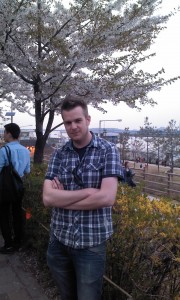 I was born 33 years ago in Stockholm, Sweden, but quickly dreamed myself away to more exotic locations. First through fiction, then in actuality. I graduated from the University of Oregon with degrees in Journalism and Japanese before first settling in Japan, then South Korea. After teaching English for a few years I had a brief stint as an actor on Japanese TV and a longer one in Korea, appearing every week portraying a historical figure of some sort. Although I love writing short fiction, my main focus in writing is in film, having written a number of (yet unproduced) feature film screenplays and a few shorts, one (which I also directed) that screened at the Puchon International Fantastic Film Festival in Korea and the Yubari International Fantastic Film Festival in Japan. I also had a documentary about a pioneer female Asian art collector nominated for a student Emmy and am currently pitching ideas for Swedish television. And now that you all think I'm some kind of bragging prick, let's get on to the questions. 😉
What do you do outside of writing?
Usually one of these three: Play retro video games from my childhood as well as mind-boggling point-and-click adventures for PC. Explore nostalgic back alleys in eastern Tokyo and central Stockholm. Making short films aspiring to be at least a tenth as good as the mouth-watering combo of David Lynch/Haruki Murakami would be.
How do you find time to do your writing?
Someone once said that you can never find time, only take it. So whenever I have a chance to try to steal whatever minutes I can find from whatever else I'm doing I try to seize it. But as in any other relationship it's a matter of compromises, I guess.
How long does it take you to complete a piece of work?
That obviously depends on the work, doesn't it? The last major piece of work I finished was a 110-page screenplay for a mystery thriller set in Japan, and that took about two years to conceive and another year to write. I'm glad that's not my average rate of output, but truth be told, it's not far off…
When did you first start writing?
My first preserved piece of fiction is called "The Black Aliens" and is about a man defending himself and his family from an alien invasion on Earth. I was ten years old and my teacher praised the way it was written (for a ten-year-old, I guess) but was less enthusiastic about the gratuitous violence…
Could you briefly summarize your literary activities and achievements?
I write mostly screenplays and have had a few short films screened at various film festivals, especially in Korea and Japan. Feature film projects are in the making. In terms of literary achievements I don't think I have too much to brag about – but that could also be because I am very lazy about actually submitting stories (now, that's a bad excuse!). Happy to be represented on Eastlit though as well as in one or two other places.
Please tell us a little about your writing.
I've always loved the innermost depths of the human psyche, bordering the supernatural. Although I'm nowhere near as good as them, I've always admired the work of writers such as Borges, Kafka and Ray Bradbury. At the same time I'm a big admirer of Japanese literature and its way of hinting at rather than stating. And I think my writing is full of that as well. Not necessarily metaphors but more so unstated content and plot. Feelings.
Which piece of your own writing means the most to you and why?
That's like asking whom of your kids you like the most, so my boring answer to this question is the lack of one. Although I've got to say that both of my pieces published on Eastlit, Fallen Blossoms and Black Void, have strong autobiographical elements and mean a lot to me.
What does being a writer mean to you?
It means my oral communication skills aren't good enough so I have to defend myself with Wordsworth's weapon of choice!
What is literature?
This is getting more and more philosophical, isn't it? Well, I guess literature is a twisted recording of human history in all its senses. A remembrance of things past from various encompassing perspectives, universal emotions put into stone. And thousands of rainy nights of bliss, of course!
How would you describe your writing process?
I'm a night owl, so my senses are sharpest in the nocturnal hours. Which means I do all the creative writing then and the polishing in the morning with a fresh mindset.
Are there any Asian poets, writers, artists among your major influences?
Plenty! I'm a real sucker for Japanese literature and adore writers such as Yasunari Kawabata, Kafu Nagai, Izumi Kyoka and Junichiro Tanizaki. Also more mordern stuff such as Haruki and Ryu Murakami. Not to forget Donald Richie, who is my biggest non-fiction inspiration. His decades of sharp and stylish writing on all things Japanese have shaped me in many ways.
What are the Asia-related subjects that have recently engaged your attention?
The comfort women issue and other war-related matters between Japan and Korea have always been dear to me, as I've spent many years in both countries. In fact, one of my biggest goals as a writer and filmmaker is to create more amity between these neighbors and their glorious cultures. Problem is since Abe took over the prime minister's post things have been going steeply downhill, and if the politicians aren't helping it's our job as writers, filmmakers and entertainers to bridge the gap and create love and understanding.
Which five books are most influential to you?
In somewhat chronological order:
The Hitchhiker's Guide to the Galaxy by Douglas Adams
The Martian Chronicles by Ray Bradbury
A Wind-up Bird Chronicle by Haruki Murakami
Labyrinths by Jorge Luis Borges
Snow Country by Yasunari Kawabata
If you hadn't been a writer what would you have been?
Some kind of Indiana Jones-like adventurer, perhaps? I'm scared of heights and water, but I'd do anything to dig into the library of Henry Jones Sr.! Perhaps I'd be George Stobbart in the Broken Sword point-and-click computer game series, if anyone's familiar with it. Travel the world solving occult mysteries, sure woudn't say no to that!
How did you find Eastlit and what are your impressions of it?
I'm very pleased with the initiative to start something like Eastlit and it seems to me that it's evolving all the time, which is great. I've read some very nice work from a broad range of young and aspiring writers, for which Eastlit feels like a great platform. Keep it going!
Would you like to leave us with a favorite quote or two, or a passage from your own or others work? And why does it means something to you?
Here's a line from a screenplay I'm working on at the moment about a Japanese rock band. Just please don't steal it. 😉
"If you aim for the stars, you might at least reach Venus. But if you only aim for the Moon, you might not even get out of the atmosphere."
I think this is what I've always tried to live by myself, at least.
Thanks to Dan Asenlund for taking the time to give us an interview. All of us at Eastlit wish him the best in the future.
The following work by Dan Asenlund has featured in Eastlit: