an Eastlit Interview by Graham Lawrence
What do you do outside of writing?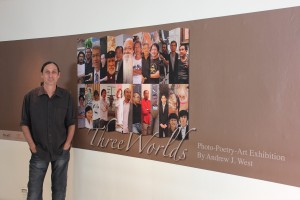 Like most writers – especially fiction writers – I need to earn my bread and butter from other sources. Although I've only ever made small money from writing fiction, I do make money from writing about art, but not enough to support myself. So, outside of writing, I'm an English teacher at NIDA in Bangkok, which works well for me as I find it balances my life financially and time-wise.
How do you find time to write?
Again, like most writers, it can be a struggle given the demands of daily life to find time to write. However, when I'm motivated or struck with inspiration, I can always make time.
How long does it take to complete a piece of work?
Short stories tend to get written pretty quickly with me, that is the first draft. But then I find I spend a year or even two drafting them every month or so. I reread and redraft sometimes up to fifteen times, perhaps even more, until I'm happy with them. This delay I've found not to be a problem as the publishing process is also very slow. Pieces usually sit around for three years – at least at they do at the moment – before finding a home.
What are your literary activities and achievements?
Well, I've never won any prizes, but I've managed to get a few books and a few short stories published, even an art exhibition featuring "photo-poetry" (combining photographs with poems) at a prestigious art gallery. All this has been in the last decade, but I've been writing for three decades, so it has been a long hard struggle, but I feel a strong sense of achievement and gratitude to have made it this far. I hope the next two decades continue to be fruitful. Writing is – after all – a lifelong journey.
Tell us a little about your writing?
I like magic realism and art fiction (fiction with something to do with art or artists). I mix a lot of magic realism into many of my stories, whether they have an art element or not. So living in Thailand for the last twelve years has been inspirational for me as this is an animistic-Buddhistic-Hinduistic-Brahmanistic culture where the supernatural and natural freely intermingle.
And the longer I'm here, the more I learn about it and the more material it throws up at me. Working on books about Thai art has been a great source of material, as I've had to learn about it in detail, such as studying Ramakien (the Thai national epic) and Three Worlds (about Thai cosmology, the first book ever written in the Thai language).
Any Asian-related subjects that have engaged you recently?
The pieces published so far in Eastlit have all belonged to what I guess can be called my first series, which comprises of ten short stories (and an unpublished novel extract) I wrote in a burst about four years ago. These are a mix of art fiction and magic realism with several Asian subjects. Before that I never wrote short stories, labouring over novels instead.
Through last year, I wrote three long short stories set in Thailand, which can be said to belong to the second series. In November 2014 I wrote a third series of five short stories based on existentialism penned in a short burst of creativity. But actually, these stories, though stand alone, are also related, following the cycle of life from conception to death.
Then this year I decided to write the three long short stories written last year as novels. So far I've completed one novel and am now sending it to publishers – and hoping for the best. I'll start on another after a break.
Also, I've been working on more poems and hope to have a second art exhibition, as well as getting other photo-poems together.
Which writers most influenced you?
I believe we are shaped as writers by what we read. Early on I really got into Aldous Huxley, William Blake, Shakespeare, J.R.R. Tolkien, Franz Kafka, Homer and so on. Now I'm more influenced by Eastern influences, but rather archaic, such as Ramayana, Bhagavad-Gita, Ramakien and Three Worlds. I think these latter influences are quite evident in some of my poetry, but also in my new new series of novels.
Would you like to leave us with a quote or two or passage from your work?
This is from Triptych, which was published a few months ago in Storie magazine (Rome) in the Italian language. I'll submit the English original to Eastlit soon.
My work depicts a world where there's no connection between humanity and nature. So my work is without imagination, without fantasy, without illusion, without cognition, without goodness, without justice, without individual style, without ideology, without any noble goal—it is without all the things nature is without—and it is without striving for a phoney humanitisation or fabricated ideal of perfection as the triptych had been.
My work doesn't penetrate humanity's essence because humanity doesn't have one. All the baggage of lies about the human spirit is outmoded and obsolete.
My work is observation, is imitation, is barren, is mediocre, is stereotype, is empty, is doubt, is comparison, is study, is manifestation, is tense, is transforming, is conflict, is anarchy, is deformation, is destruction, is dehumanisation, is ugly, is pathological, is absurd, is negation, is fraud.
The hospital lets me go and I return to live on the street, but survival for its own sake is no longer my concern. Instead, I am art for art's sake. I am art for the people who ignored me, but who now wake up and are shocked every day by me as art. Ignorant egoists gathering in groups to hurl ridicule or derision or walk on by, but they are no longer able to ignore me.
*****
Thanks to Andrew J West for taking the time to give us an interview. All of us at Eastlit wish him the best in the future.
The following work by Andrew J West has featured in Eastlit: