It is a long while since, I have done an Eastlit news post, and there are a number of developments to mention. So here is the first Eastlit news post in a while.
We should soon have a new poetry reading up on Eastlit Live. When we do, I will mention it in the news again. At the moment I am just waiting for some artwork to add to it. When I launched Eastlit Live I thought it would be an exciting development, so this is great news for me.
If you have any multimedia poetry or story readings or other multimedia art pieces that you would like us to consider for Eastlit Live, please contact Graham. Anything we put on Eastlit Live will also be mentioned in a news item here, to make sure our community are aware.
Graham Interviewed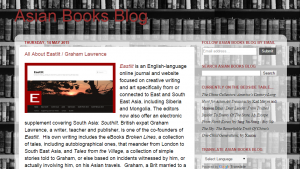 Rosie Milne of the Asian Books Blog took the time to interview me about Eastlit and publishing. If you are interested in my views, why not take a read of All About Eastlit / Graham Lawrence. 
The Asian Books Blog which has been going for a few years now, has a lot of other stuff worth a read too. If you have a few minutes to spare, take a look around and see what Rosie is up to at the Asian Books Blog.
Eastlit E-Magazine, Print and More
I still want to see Eastlit published in an e-magazine/e-book version that can be read on Android, iOS and Kindle devices. As soon as I can find the time, I plan to make this happen.
You will notice that there is now a print button on most pages, if you prefer to read your favorites on paper!. I added this a few months back. The page can also be turned into a PDF via this button.
Southlit Supplement
A few months ago, I integrated the separate Southlit Journal into Eastlit as a Supplement. This was done as there seemed an obvious connection in culture at least between South and Southeast Asia. There was also an overlap in readership. When I added on all the extra work it involved for me and the team, combining the two made sense.
For readers this also adds a wider variety of poetry, fiction and artwork to read and view each month. If you are primarily interested in South Asia, you can go straight to the supplement. If you are interested in East and Southeast Asia, stick with our usual magazine. However, I do hope that a bit of variety adds something for our readership.
For contributors it adds an opportunity for you work to be more widely seen and be seen in a different region or two.
Finally in Eastlit News
Thanks to the recently expanded editorial board for all your hard work. I am especially thankful to the original poetry reading group for coping without complaint with all the extra poetry that had to be read each month before the board was expanded.
Enough on Eastlit news for now.
Cheers.