The list of Eastlit Writers October 2016 is alphabetical by first name:
Allen Forrest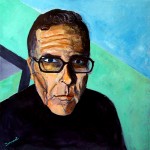 Graphic artist and painter Allen Forrest was born in Canada and bred in the U.S. He has created cover art and illustrations for literary publications and books. He is the winner of the Leslie Jacoby Honor for Art at San Jose State University's Reed Magazine and his Bel Red painting series is part of the Bellevue College Foundation's permanent art collection. Forrest's expressive drawing and painting style is a mix of avant-garde expressionism and post-Impressionist elements reminiscent of van Gogh, creating emotion on canvas.
Andrew J. West
Andrew J. West is a Bangkok-based writer and author of Thai Neotraditional Art (2015), Destiny to Imagination: Prateep Kochabua (2013) and the art fiction novel Silpa: the Art of Love (Ruk Nai Roy Silp) which was published in the Thai language in 2008, as well as many short stories that have appeared in Eastlit and in the Italian language in Storie magazine. He was a regular contributor to Bangkok Post as an art critic over the period 2003 to 2010. His first solo art exhibition, Three Worlds, of photo poetry was shown at the prestigious Bangkok Art and Culture Centre (BACC) in 2014. West was born in 1967 in Armidale, NSW, Australia, and studied writing and journalism at the University of Western Sydney (UWS), graduating with an MA (Writing).
Catalina Rembuyan
Catalina Rembuyan is an educator, spoken word poet and fiction writer living in Kuala Lumpur, Malaysia. She read English at the University of Malaya and has been published in a number of journals and anthologies in Southeast Asia. She blogs at http://catalinarembuyan.squarespace.com.
Dov Weinman
Dov Weinman is a mountain-poet, ultrarunner, activist, and chicken caretaker. He's published poetry in the Whitefish Review, Poetica Magazine, Portland Review and other publications. Dov received a M.S. in environmental studies from the University of Montana and is now a Peace Corps Volunteer for coastal resource management living in the Philippines.
Erwin Ponce
Erwin Ponce received an MFA from Emerson College.  He has had poems published in The Des Moines National Poetry Festival Chapbook, Periphery, and Beacon Street Review.  He lives in Elk Grove Village, IL.
Faridah Manaf
Nor Faridah Abdul Manaf is an academic at the English Language and Literature Dept.,International Islamic University Malaysia. She's a bilingual poet and short story writer, published both in Malaysia and abroad. Some of her Malay short stories had won national writing prizes in Malaysia. A few others (both in English and Malay) were made school/university texts.Her first book of poetry The Art of Naming: A Muslim Woman's Journey was published in 2006.
Lita Kurth
Lita Kurth  (MFA Pacific Lutheran University) has had work published in Fjords Review, Brain,Child, Main Street Rag,Tikkun, NewVerseNews, Blast Furnace, Raven Chronicles, ellipsis…literature and art, Compose, Redux, Chicago Literati,Composite Arts, Verbatim Poetry, the Santa Clara Review, Gyroscope Review, Vermont Literary Review, DNA-Dragonfly Press, Defenestration, Draft: a Journal of Process, Tattoo Highway, and others.
Her CNF, "Pivot," was nominated for a Pushcart Prize. Her CNF "This is the Way We Wash the Clothes," presented at the Working Class Studies conference, 2012, won the 2014 Diana Woods Memorial Award (summer-fall 2014) and appeared inLunchticket 2014.
She contributes to Tikkun.org/tikkundaily, TheReviewReview.net, San Jose's weekly, The Metro, and classism.org.
In 2013, she co-founded the Flash Fiction Forum, a reading series in San Jose.
Marianne Lyon
Marianne has been a music teacher for 39 years. After teaching in Hong Kong she returned to the Napa Valley and has been published in various literary magazines and reviews such as Colere 2015, Crone 2015, Trajectory 2014, Earth Daughters 2015, Feile-Festa 2015 Whirlwind 2014-2105. She spends time each year teaching in Nicaragua. She is a member of the California Writers Club, Healdsburg Literary Guild. She is an Adjunct Professor at Touro University Vallejo California I am attaching six poems. Living with Proverbs, Banyan, Dancing in China, Mist on an Asian Mountain, On a Chinese Chair, Rainforest Haiku.
Matthew James Friday
Matthew James Friday is professional writer and graduate of the MA in Creative Writing at Goldsmith College, London. He has had poems and short stories published in the following worldwide magazines and literary journals: A Handful of Stones, Bad Idea Magazine, Brand Literary Magazine, Bolts of Silk, The Brasilia Review, Cadenza, Carillon, Cha: An Asian Literary Journal, Dreamcatcher, Earth Love, Erbacce, Envoi, Finger Dance Festival, Gloom Cupboard, IS&T (Ink, Sweat & Tears), The Journal, The New Writer, Orbis, Sentinel Literary Quarterly, Third Wednesday, Of Nepalese Clay, Pens on Fire, Pulsar Poetry, Rear View Poetry, Red Ink, South Bank Poetry Magazine, The Writing Shift and Writing Magazine.
Namia Akhtar
Namia Akhtar is a freelance writer and a Research Associate of Bangladesh Enterprise Institute, a security think tank based in Bangladesh. She has been writing poems since her childhood, which appeared in Young Observer, a weekly magazine of the then leading English newspaper The Bangladesh Observer. More recently, her op-ed articles have appeared in Dhaka Tribune, a leading English Daily in Bangladesh.
Ms. Akhtar obtained her Bachelors degree in Social Sciences from Lingnan University, Hong Kong under the non-local students' scholarship, and is now studying Masters of Development Studies at Brac University, Bangladesh. She lives in Dhaka, Bangladesh.
Natthinee Khot-asa Jones and Hardy Jones
Natthinee Khot-asa Jones is a memoirist, novelist, and short story writer, publishing in Thai and English. She is a country girl from the Thai side of the Thai-Cambodian border who grew up speaking Cambodian, Thai, and Laotian. In 2001, she graduated from Sophon Business School in Thailand, and later attended the University of Louisiana at Lafayette and Auburn University.
Her Thai publications include the short story "Puppy Love," published in the High School Love anthology in 2007. Her novel Wal-Mart Girl was published in 2008 by Nokhook Publishing, and later that year her novel The Heart of Time was published by Nokhook.
In addition to being a writer, Natthinee is an avid photographer. One of her photos was used for the cover image of the "Family Secrets" (Issue #44) Sugar Mule Online Magazine. In 2006-2007, she was a Laotian translator for Louisiana's Folklife "New Populations Project." For this project, her husband received a research grant to write about Songkran, the Buddhist New Year's celebration in the Laotian community of Lanxang outside of Lafayette, Louisiana. The essay and photographs from their research are on the Louisiana Folklife website. Natthinee loves cooking Thai and Cajun food, and in 2006 her Phad-Thai recipe was featured in the Wal-Mart Family Cookbook.
Hardy Jones is a two-time Pushcart Nominee and the author of the novel Every Bitter Thing (Black Lawrence Press, 2010) and the memoir People of the Good God (Mongrel Empire Press, 2015). His creative nonfiction has been awarded two grants. His short stories were anthologized in the 2009 Dogzplot Flash Fiction Anthology, The Best of Clapboard House Literary Journal, Southern Gothic: New Tales of the South, and Summer Shorts II. He is the co-founder and Executive Editor of the online journal Cybersoleil (www.cybersoleiljournal.com), and he is the Flash Fiction Editor for Sugar Mule(http://www.sugarmule.com/index2.htm). His website is www.hardyjoneswriting.com and he is on Twitter @HardyJonesWrite. Hardy splits his time between New Orleans, Louisiana and Si Sa Ket Province Thailand.
Nirjhar Dutta
His name is Nirjhar Dutta. He did his post-graduation in Computer Applications from Pondicherry University. He loves to travel, read books, listen folk songs, chat. He is an avid follower of eastern and western classical music. He is foodie and he boasts about it. His favourite writers are Tagore, Pamuk, Oscar Wilde and Kafka.
Tom Sheehan
Sheehan  has published 25 books and has multiple work in Rosebud, Linnet's Wings, Serving House Journal, Copperfield Review, La Joie Magazine, Literary Orphans, Indiana Voices Journal, Frontier Tales, Western Online Magazine, Faith-Hope and Fiction, Provo Canyon Review, Eastlit, Rope & Wire Magazine, The Literary Yard, Green Silk Journal, Fiction on the Web, The Path, etc. He has 30 Pushcart nominations, 5 Best of the Net nominations (one winner). Swan River Daisy just released by KY Stories, and The Cowboys by Pocol Press, and Jehrico, soon from Hammer-Anvil Press. HisAmazon Author's Page, Tom Sheehan — is on the Amazon site.)
Xiaodong Bu
Xiaodong Bu is a pathology teacher in Southeast University, China and enjoys writing fiction, reading historical books in spare time and sharing these interesting stories with friends, colleagues and medical students.