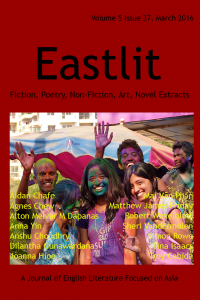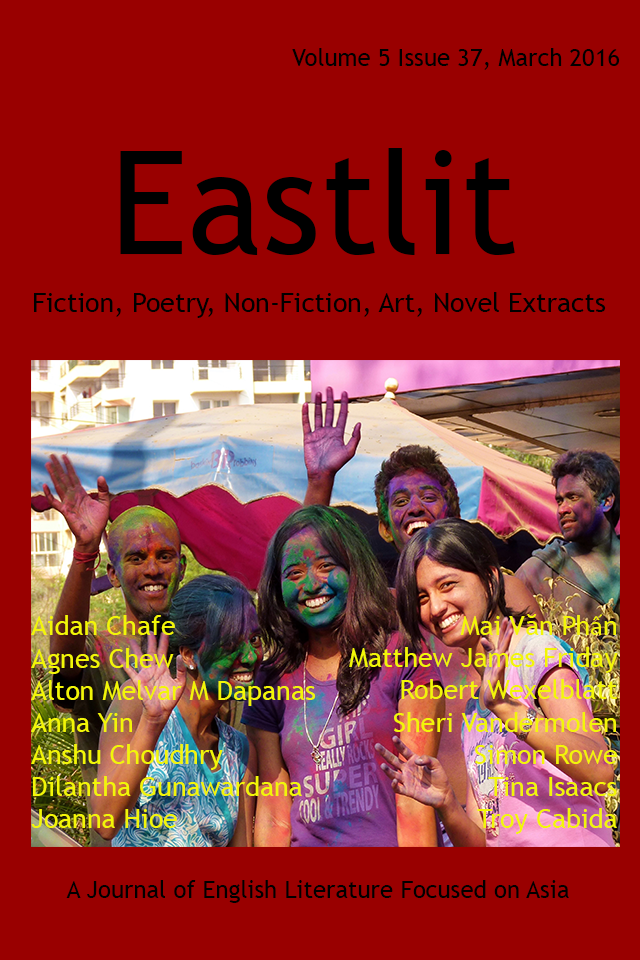 There is quite a lot in this Eastlit Literature News 2016 post! In the coming year, I have a number of plans to move Eastlit forward. These involve offering our contributors wider audiences and our readers a greater variety. Part of this will be to share our Asian writers work in other regions of the world that Eastlit does not currently have a high profile in. We will be looking for partners to help both us and them to offer new audiences.
A new services page will also be added. The aim of this will be to offer support and background services to writers and poets who need a little help. We want to help you get your work published. We want to help you feel confident that your work is great. These services will be offered by a small group of native speaker/writers based in developing countries. That means the prices will be a lot more affordable for many.
We also have a serialization coming up in the second half of the year and a small special issue celebrating the poetry of the African diaspora in Hong Kong.
All the details of this literature news 2016 are below.
Partnerships with Other Journals
Eastlit is looking for partnerships with other similar journals covering the following regions:
Africa
Middle-East
Latin America
Central Asia
Eastern Europe
The plan is to work as partners to announce each issue of each others journals. But more than this, the idea is that every year we will each run one or two special issues highlighting the work of selected poets and writers from each of our diasporas. This will hopefully help build far bigger audiences for each of our local writers.
I am looking to partner with online journals of a similar nature to Eastlit. That means:
Not affiliated to any organization, company or institution.
Established for at least a year with at least 4 issues published.
With some form of editorial board.
But mostly with a desire to see the literatrue of your locality get the readership it deserves.
Journal owners etc please contact Graham if interested or use the Eastlit contact page.
Services
I will soon be adding a special page for these. However, they are all ready to run now. So if you want to get in early drop me a line. The services that will be offered are:
Writing Mentor Service
Editing
Proofreading
Publishing and Printing Service covering India and the sub-Continent:

If you are interested in publication, marketing and distribution service in this locale, let me know.

Creative Writing classes.
Developing Creativity classes.
All of the above are at special rates more suited to Asia than the West. For example, many are about 30% of what you would pay in a western country, but still done by a native speaker/writer.
Eastlit Literature News 2016: Eastlit Extras
As mentioned above, in the next couple of months a special slim poetry of the African diaspora in Hong Kong will be published byEastlit. We are also interested in publishing other special issues to highlight particular groups. Years ago we had the chance to publish literature from a Burmese refugee camp until demands for corruption money descended. It would be nice to get back to this kind of opportunity.
In the second half of the year, we will serialize a collection of shorts plus artwork by one of Eastlit's old regular contributors.
Other Literature News 2016
Remember if you want e-mail notifications of when the next issue Eastlit is out, you can sign up for our Eastlit Newsletter. We only use this to inform people of an issue coming out, or a news post like this coming out. You will not be inundated with rubbish. There are also our usual social media links.
Eastlit readership is currently up 18% on last year. It is also at all time record levels. I am predicting growth of 30% for the year based on acceleration of readership and that last year we only published 10 issues. We will see, but it will definitely be a good year for our contributors in getting their work read!
I got this piece of news from Kristine Ong Muslim whose piece Dark Clocks was published by Eastlit in January 2015:
My short story collection Age of Blight (Unnamed Press, 2016) has just been released.

My book A Room Full of Machines (ELJ Publications, 2015) contained the poem "Dark Clocks," which appeared in the January 2015 issue of Eastlit.

Lifeboat (University of Santo Tomas Publishing House, 2015) is another poetry collection.
Ok well that is all the development and literature news 2016. I hope 2016 is going well for everyone and you continue to enjoy Eastlit.
Cheers