Well it is Happy Thai New Year (Songkhran) to everyone who celebrates it at the start of this news post. It is very hot in Thailand and the five days of water throwing where I live is in full flow. People really seem to be enjoying themselves this year, which is a great thing.
Still, sitting in the garden at 9:45 I had better turn my mind to things Eastlit and give an update of what is going on before the temperature rises too high and the partying begins.
May Issue
The May issue of Eastlit will be bigger than the April issue. The plan is to have it out on May 1 for International Labour Day. It will include fiction, poetry, a novel extract and non-fiction and the first of a series on how not to write!
How Not to Write
Starting in the May issue we will be running a series titled How Not to Write by Steve Rosse. Steve Rosse is a former columnist for The Nation newspaper in Bangkok. He has written a number of books and is an accomplished editor with an eye for good and bad writing!  He has had a number of pieces published in Eastlit since its launch. We hope that writers both new and experienced will find his advice and tips useful.
April Issue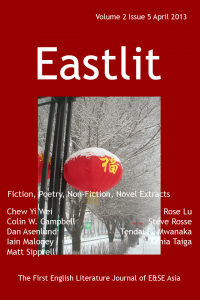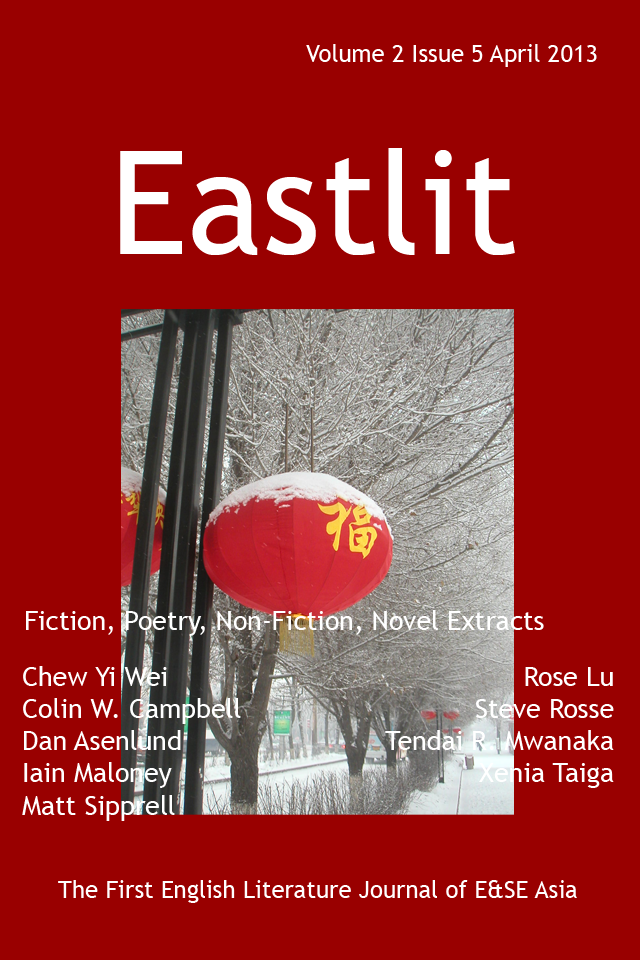 The April issue of Eastlit was a small one. However, it has attracted a lot of interest. If you have not seen it yet, why not take a look at our unique cover. If you prefer, you can go straight to the table of contents. Eastlit's April issue has a mix of poetry, fiction and non-fiction. The contributors come from across the region and outside. They include expatriates as well as local writers, and we feature both writers new to Eastlit and a couple of old hands. The cover picture is provided by Xenia Taiga this month. Thanks to all those who contributed ad to those who have read it.
Eastlit and Readers
Over the course of this year to date, there has been a steady increase in the number of readers visiting the site. We would like to thank our readers for their support of the site and its contributors. Without you Eastlit would not be here. We also invite comments or suggestions through the usual contact.
Previously Published Authors
Please remember that you can submit more work at any time. In fact we love to see more from authors we have already published. The only limitation is that in general we do not publish authors in consecutive months. We also welcome submission or work from authors previously rejected. Every piece will be judged on its merits.
Non-Native Writers
At Eastlit we are happy at the number of pieces of work we have received from writers whose native language is not English. Thank you. We hope these submissions continue to increase. Don't forget that we offer free advice and editing on pieces to non-native writers.
The Butterfly's Body
The May issue of Eastlit will see the publication of Life Cycle, which is the final chapter of The Iron Butterfly by Richard Lutman. The first two chapters are The Butterfly's Body and The Colors of the Wings. These were published in the January and March issues of Eastlit respectively.
Translations
You can now also submit translations into English of fiction, non-fiction and poetry. In fact we positively welcome this if anyone has work. Please read our submissions page first. Then submit through the submissions e-mail.
Other News
I have been busy looking for and fixing broken links in Eastlit. Those previously not working have I hope been fixed. However, if you find any broken links please report them to Eastlit admin or through our contact form.
Please also remember you can get all the latest or follow us on the Eastlit Facebook page.
Not much else to say except:
Sawadee Pee Mai.
Cheers.
Graham.