It is time to think of the future now that Eastlit has made it past six months and has published six online issues. Over this period we have also seen constant growth in readership. Just from March to April saw a 50% increase. Bryn and I have also managed to increase administrative efficiency to the point where we are now confident that we can start thinking about moving to the next stage in Eastlit's development. We would also like to thank all of you who have contributed work, read the journal and given us feedback over the first six months. We would not be where we are without you.
The Future
The first thing to say about the future is that we do not plan on changing what we offer now. However, there are a number of things we are looking at adding:
Issues of Eastlit that can be downloaded. This means you would not need to be online to read Eastlit. You could also read it on reading devices such as Kindles. It may also make things easier on the eye.
Photograph and visual art section. While concentrating on English literature in East and South East Asia, in response to some requests, we are thinking of taking submissions of photographs or other works of visual art. We believe this would add a nice juxtaposition to the text, and also create more of a magazine feel.
Non-native writers. We plan on actively promoting Eastlit and its free editorial services for non-native writers in the future. We are also thinking of offering some form of online creative writing courses aimed at non-native writers. This is all part of our longer term aim of supporting local writers. We would dearly love to take this all to some of the poorer countries of the region, but that is probably for a later stage. Our longer term aim is to increase the amount of local non-native pieces without cutting the amount of quality native written pieces we publish. Eastlit would just become a larger publication.
Revisiting older issues/pieces. We do plan on highlighting or reissuing pieces of work that can be buried in older issues as time goes by. One of the things I personally heard from writers when first mulling the idea of Eastlit was that they had pieces published years ago that they felt were now just lost in either a dead journal or a years old unviewed issue. We at Eastlit want to try and ensure that this will not happen to work published on Eastlit.
Archive. Any issue older than 3 months is now listed on the currently minimalist Archive page. For now just click the picture on this page to enter the issue. I will probably be redesigning the archive page in the next few months. Hey, any ideas on what it should or should not have would be great!
These are our plans, but before moving ahead with them, we would as always appreciate any thoughts, comments or criticism. At Eastlit we do want to remain genuinely responsive to our contributors and readers and be as transparent as we can. I am letting you know about this now before we move ahead, so we can factor in any feedback we get. As the plans are formulated I will give updated reports here.
These plans together coupled with increased viewing does mean extra cost for us, and that brings me to the next topic.
Fund Raising
Firstly, this is not a sudden request for donations or largesse,  but a request for any advice or ideas on how funds could be raised to cover increased costs. Bryn and I are not looking at being paid or even recouping what we have already spent on setting up Eastlit. However, to move ahead on the new projects, we are looking at ways we could cover some or even all of the cost of a project. Our personal funds are not unlimited! Neither of us are businessmen or have any experience or knowledge of raising funds. If anyone reading this does, some advice would be welcome. You can contact us here.
Previously we mentioned advertising. However, this was not popular as it was seen as anything from selling out to ruining the look. So I guess that option is ruled out. We will also not indulge in anything that risks the independence of Eastlit, its aims or its editorial policy. Apart from that we are open to suggestions, but please bear in mind neither of us can cook cakes that anyone will buy.
It would also be nice if one day we could offer some remuneration for contributions, or maybe more realistically competition prizes.
May Issue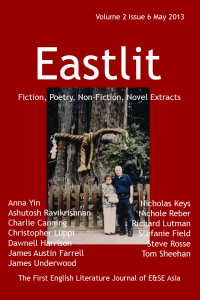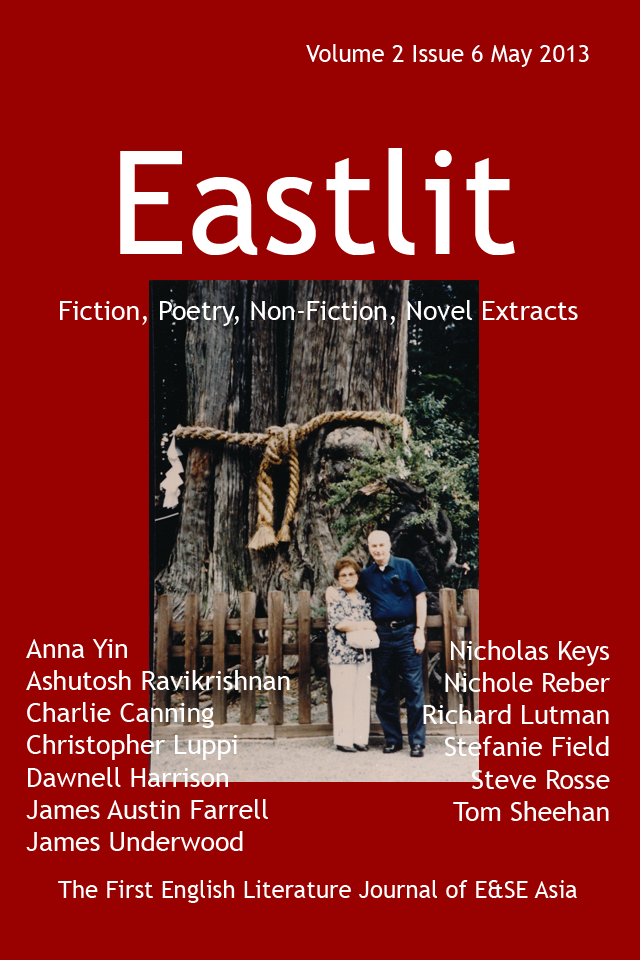 The May issue has already been read by a very large number of people. I did hear a report or two of the server being down on occasion. If you notice this, could you please let me know as we do have a plan to upgrade hosting, but with cost a consideration it is not yet urgent although could become so!
Anyway the May issue with the last part of the Iron Butterfly and the first of the How Not to Write series as well as writers new and previous to Eastlit is out and receiving good feedback. If you haven't seen it yet, just click on the picture to the left. It has more content than the last few issues. The cover picture is explained inside.
Translations
Don't forget you can now also submit translations into English of fiction, non-fiction and poetry. In fact we positively welcome this. Please read our submissions page first. Then submit through the submissions e-mail.
Other News
There is not much else to say. However, I would like to thank all those who have contributed to the first six issues. I have really enjoyed everything I have read even in some cases if it hasn't been published. Remember that you can submit more any time, and we will just slot it in for consideration for one of the next few issues.
If you like Eastlit and our aims, please support us by spreading the word or like or share this or another page.
Oh, remember you can also get all this news from our newsletter. Sign up now to have the news sent to your e-mail if you would like that.
Cheers.
Graham.