Popular Asian Creative Writing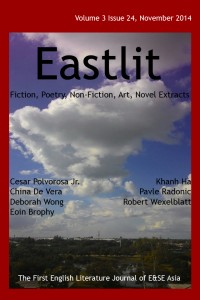 The latest lists of popular Asian creative writing in Eastlit are finally available! As per normal we include the most popular Asian poetry and fiction of the past seven and thirty days. Our all time list gets an update too. We are going to  continue providing direct links to the pieces in the current list of popular Asian creative writing to make reading them easier.
The creative writing and artwork can be accessed from the links on the page or by navigating using the links in the top bar or from the Eastlit archive. Why not also take a look at some of the other poems, prose and artwork too? We all have different tastes, and let's be honest, quality does not always mean popularity!
The next issue of Eastlit will be out on December 1.
Please note that we have a policy of excluding all the covers, content pages, contributor lists etc from these statistics.
Popular Asian Creative Writing Last Seven Days
Popular Asian Creative Writing Last Thirty Days:
Popular Asian Creative Writing All Time:
Year on Year Readership Change
+ 46% December 2013 on December 2012.
+172% January 2014 on January 2013.
+161% February 2104 on February 2013.
+242% March 2014 on March 2013.
+64% April 2014 on April 2013.
+8% May 2014 on May 2013.
+69% June 2014 on June 2013.
+17% July 2014 on July 2013.
+33% August 2014 on August 2013.
+21% September 2014 on September 2013.
+2% October 2014 on October 2013.
Top Ten Countries in Alphabetical Order:
China & Hong Kong
India
Japan
Malaysia
Philippines
Singapore
Thailand
United Kingdom
United States
Vietnam
Cheers and Enjoy.