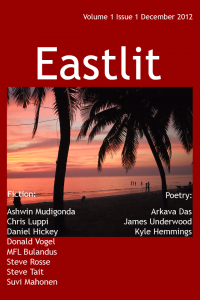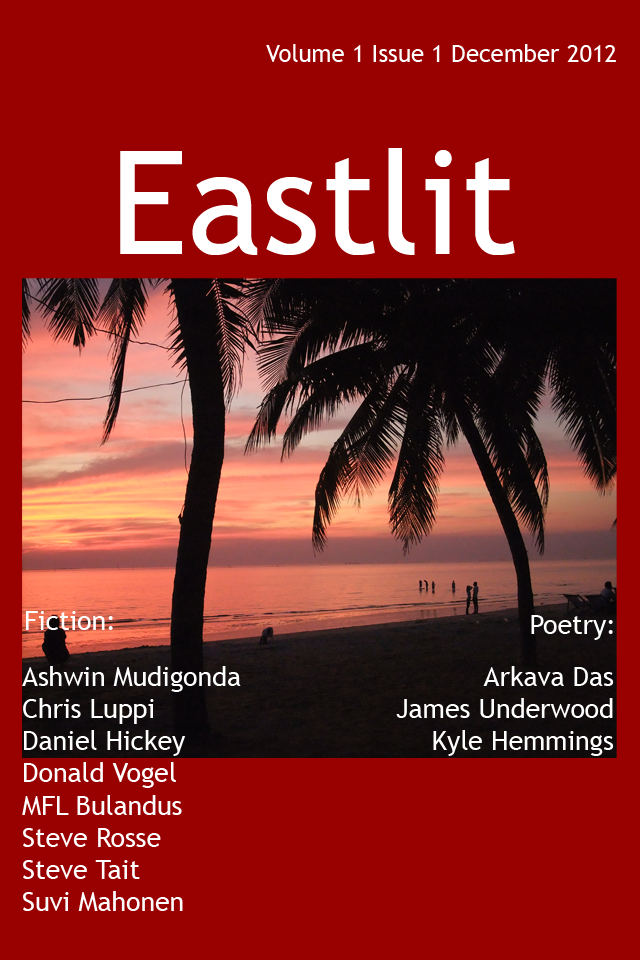 First I would like to apologize for any delays in replying recently. I will be staring a new job in a few days time, and will temporarily be working away from home. That has meant finding some temporary accommodation. So I haven't been as available as usual. Things should settle down again now though. Anyway enough of that.
It is about the second year of Eastlit and some new initiatives that I want to look at this time.
The cover to the left is of the inaugural issue of Eastlit, many moons ago. Just click on it for a reminder of where we started.
Eastlit First Anniversary: Welcome to the Second Year!
As many of you know we are fast approaching the first birthday of Eastlit. That seems like a good time to introduce some new things. It is also a good time to renew energy in some older projects. So for the second year of Eastlit, we have some plans. We will start to roll these out from the December issue.
Monthly Reviews
We will be introducing book reviews by a regular contributor. The aim is to have one per month. This does not mean we will not take reviews from others.
Author and Artist Interviews
These will be of different types. Obviously we do not have he resources to gallivant around the world interviewing people. But there is modern technology. We have several types of interview:
written: we send out our questions and the replies are written.
audio: we send out written questions and the replies are spoken.
video: we send out written questions and the replies are spoken onto video.
full video: we send out written questions and you the author or artist find a friend to ask the questions and then answer them while making a video.
We are now inviting all of our contributors over the past year to be interviewed. Just contact us at Eastlit editors
All previously published authors and artists interviews will be published. We will do this via Eastlit and/or Eastlit Live. Oh unless you are hideously rude or offensive! The timing of these will depend on the popularity of this.
E-Magazine
I have virtually completed the editing of the downloadable E-version of he first issue of Eastlit. I will release at some auspicious time!
Republication
This is just a reminder that as from the December issue we will republish a piece of work from a previous issue of Eastlit. This will be chosen randomly. These will appear on their own special page in Eastlit.
The New App
There is still some technical work to be done on our new independent Android app. When it is finished, we will release it. In the meantime the old one is still available from the Google App. Store.
Links
If any of our contributors have a literature or art website or blog and would like us to consider linking to it, let us know. We are going o start building a links list.
Second Year Other Things
Thank you to everyone who reads, contributes to and recommends Eastit. Without you, we are nothing. I hope you continue to do so. And if you have any requests, ideas or comments for the second year, please let me know. I will be doing a separate post on areas we may need or not need to change.
And thanks to those who have donated to help Eastlit cover costs. It does make things a easier. It really is appreciated.
Cheers
Graham