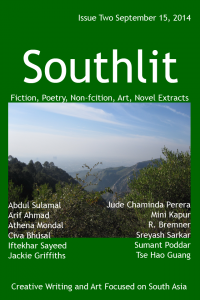 Southlit began life as the separate sister journal to Eastlit in early 2014. Towards the end of the year a decision was made to integrate Southlit with Eastlit. The common purpose and overlapping readership made this seem the sensible approach. It also means that we can guarantee the standards that we try to maintain rather than share them over two seperate journals.
From February 2015, every month we will be including a Southlit insert with each issue of Eastlit.
Southlit covers literature and artwork focused on South Asia. Our definition of South Asia remains unchanged and covers the countries of:
Afghanistan
Bangladesh
Bhutan
India
Iran
Nepal
Pakistan
Sri Lanka
The Maldives
We are now inviting writers focused on, living in or with the nationality of these countries to submit work in the following categories:
Creative non-fiction
Fiction
Photographs or other pieces of artwork
Poetry
Reviews
Translations
Submissions can be made through the usual Eastlit submissions process. Please check the Eastlit submissions guidelines first.
If you like our idea and what we are doing, please support us by using the like or share buttons.
You can find the old Southlit journal and its two issues by clicking on this South Asian Literature link.