Eastlit will not be taking submissions again until further notice. Please check back to this page for any updates.
This issue came out in April 2017.
Eastlit is a journal and network of supporting sites focused on creative writing, literature and art from or connected to East and South East Asia.
Latest, News and Information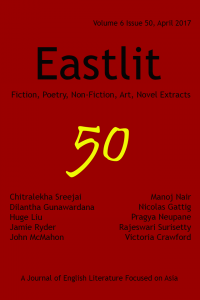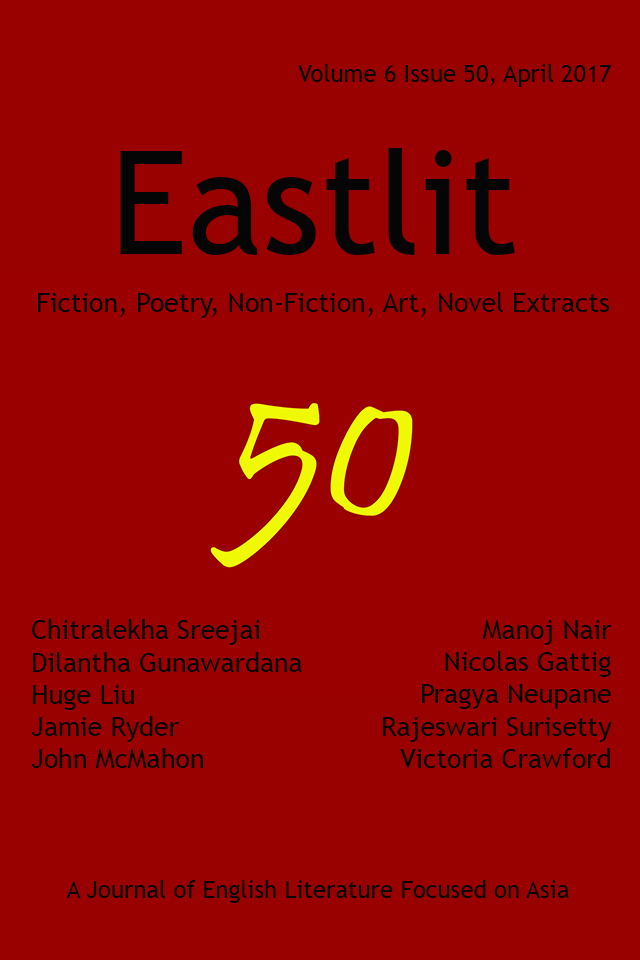 Check the Latest page for all the current news on Eastlit, its contributors, literature and creative writing in the region. The latest piece All Time Asian Popular Lirterature in Eastlit which includes the 30 most popular pieces since 2012 came out on February 17th, 2017. The April 2017 issue of Eastlit is now out. Click on the Eastlit April 2017 Cover to the left or open Eastlit March 2017 at the Contents. This issue includes poetry, non-fiction, artwork, and works of fiction. We hope that you get as much enjoyment from reading it as we have. We have writers from across the region and connected to it in this issue. There are a number of reappearances by some of our previous contributors, and eleven new ones this time. We are still considering putting each month's Eastlit into an e-book or e-magazine as well as the standard website one. This would mean that you could download it and read it at your leisure on a reading device, tablet or smart phone at your own leisure. The aim is still to trial an old issue first in the next few months.
We are not taking submissions right now.
Eastlit Live
Eastlit Live is now up and running. It is a You Tube Channel for multimedia art content. See poetry readings, information, interviews and other literature and art media. The You Tube channel is simply called Eastlitlive. The first video was a poetry reading by Anna Yin. The most recent is a poetry reading by Usha Kishore. Please contact us to send you contributions in, or to ask how! We are actively seeking any form of visual or multimedia art for Eastlit Live.
The International Writers' Group
Alternatively if you are looking for something more international take a look at our International Writers Group. It has been set up as a Google plus community. That way members can easily share through Google documents or even use hangouts to discuss ideas or literature. It is aimed at creative writers across the globe. You will need to have a Google plus account, which means signing up for g mail if you have not already! If you have any questions, you contact us at eastlit1@gmail.com. The group is not aimed exclusively at Eastlit readers or contributors. So please feel free to let any interested friends know. It is also not a short cut to being published on Eastlit! The International Writers Group is an independent democratic community of people that has developed as an off shoot of what we have been doing here.
Eastlit Submissions and Old Issues
The journal showcases the work of writers of all forms of English literature covering East and South East Asia in a monthly journal. Writers who wish to show their work in the region will also be considered. These writers should state how their work connects to East and South East Asia.
Finally our archive is where older issues can be found. We only keep the three most recent issues on the navigation bar. For older issues, please take a look in the archive.
Eastlit is now accepting work from writers in all categories of creative writing. We accept fiction, poetry, creative non-fiction, book reviews and extracts from novels. Please go to our submissions page for details. We welcome work from both published and unpublished writers. We encourage the submission of work by non-native writers. We will provide free help and support for non-native writers hoping to publish. We are now taking submissions for the following issues: December 2016. We continue to encourage the submission of book reviews, photos and visual art. Please submit for these new categories and all others now. And remember that moving and visual art is also welcome on Eastlit Live. See above. And if you want the latest without checking back here, please follow us. Click on the follow us button on the left. You can also check our Latest page for updates. Subscribe to our newsletter for all the latest news.