Please click this Eastlit contents link or on the picture to enter Eastlit January 2014.
The Eastlit January 2014 issue is now out. This issue of Eastlit features fiction, poetry, non-fiction and a play. Eastlit features its first interview. This is an interview by regular poet Anna Yin. She has selected a poet she thinks will be of interest to our readers. We also continue with the second review by Stefanie Field in the Bookworm in Bangkok Column. This month's Eastlit also includes the ninth part of the series: How not to Write. For the second time Eastlit will reissue a random piece from a previous Eastlit issue. All of these are from across East Asia or South East Asia or connected to it. Please take a look at our unique Eastlit cover design for January 2014 below.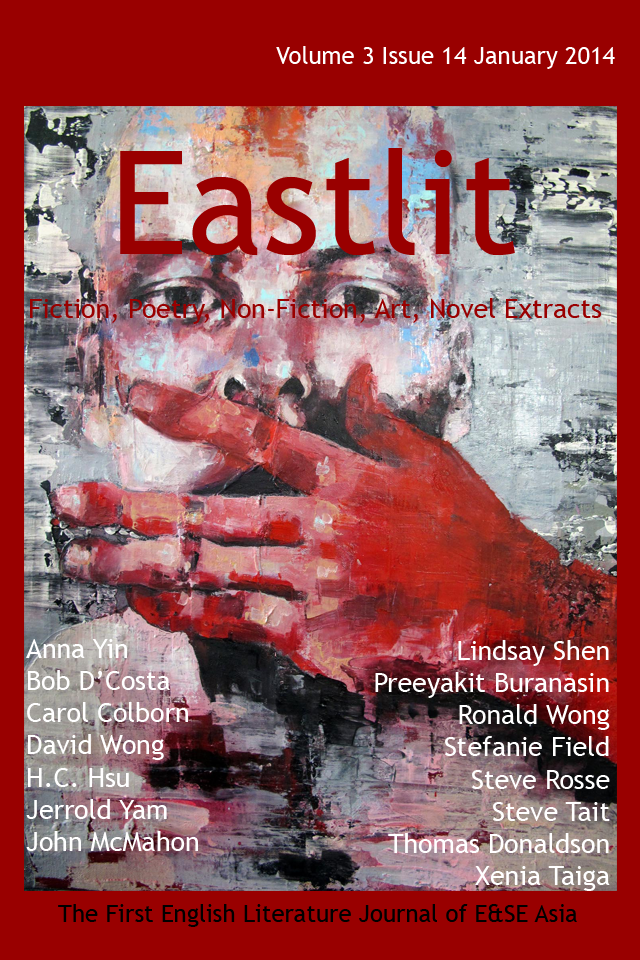 This months cover picture for Eastlit is Speak no Evil. It is by Thomas Donaldson. It is a JPeg of a mixed media on canvas painting. More of Thomas Donaldson work can be seen inside this issue of Eastlit.
The January 2014 issue of Eastlit features six writers, poets or artists new to Eastlit. Thank you to all of you. Thank you also to all of those who have been featured by Eastlit before.
The Eastlit January 2014 issue cover design is by Graham Lawrence.
©copyright 2014 Eastlit and contributors to Eastlit.
Please also spend a few minutes to take a look at the Eastlit Live channel on You Tube.